Bliss Babes!!!
Holy Moly!! How is it the holidays? It happens every year, and every year I'm just as surprised. Time really does fly, and the older I get, the faster it goes. I'm really trying to cherish things a bit more because of this awareness, lately. I don't want to take anything for granted. So here I am getting ready for Christmas, and New Years, and I'm finished all my shopping and sent out all my holiday cards, and feeling good. Back on the East Coast, Christmas and decorations are huge! Everything is lit and festive feeling and gorgeous. Every one is bundled and sipping hot cocoa, and going to places like Shadybrook Farm to see the light show, or Peddlers Village for all the little shops decorated. So, naturally it's sometimes difficult to be on the West Coast and have it still 85 degrees and not much Christmas feel. However, this year I stumbled onto the cutest Christmas event: Laguna's Sawdust Festival. They have tons of amazing vendors, incredible live music, amazing photo opps, and it even snows twice an hour! It's so much fun! So I was lucky enough to shoot the kind, Valeriya (@Valeriyakarpenk) there, and boy did we get some good stuff. We put Valeriya in the prettiest dresses that are perfect for Holiday parties, family get togethers, and of course NYE dresses too!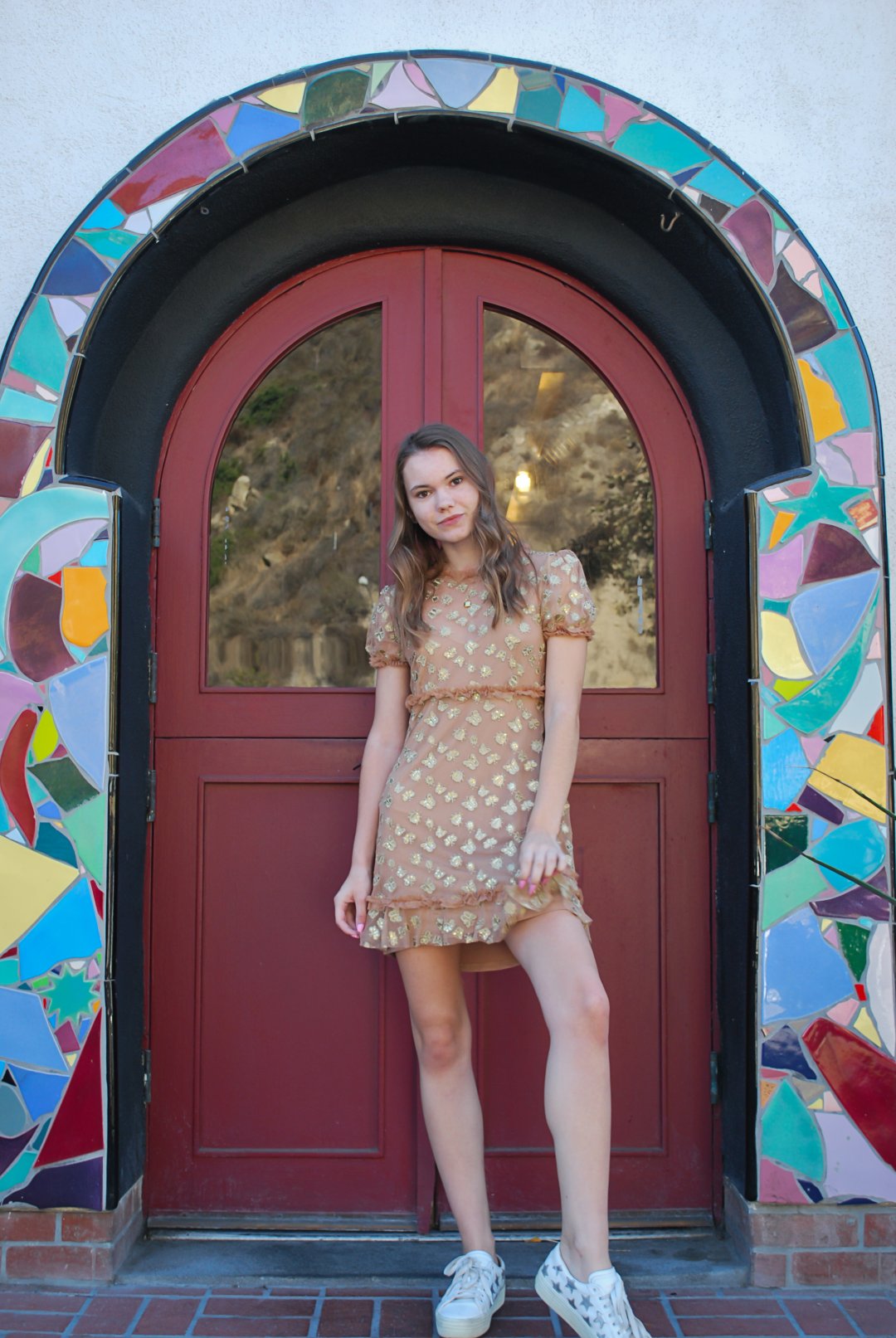 How sweet is this Golden Garden Tulle Mini Dress by For Love & Lemons? It's perfect for all the holidays, NYE, weddings, dates... you name it. It can be dressed up or down easily. You can even remove the nude slip and wear it with a bralette and boy shorts for a more risqué or party look. I love how the gold accents glisten in the light.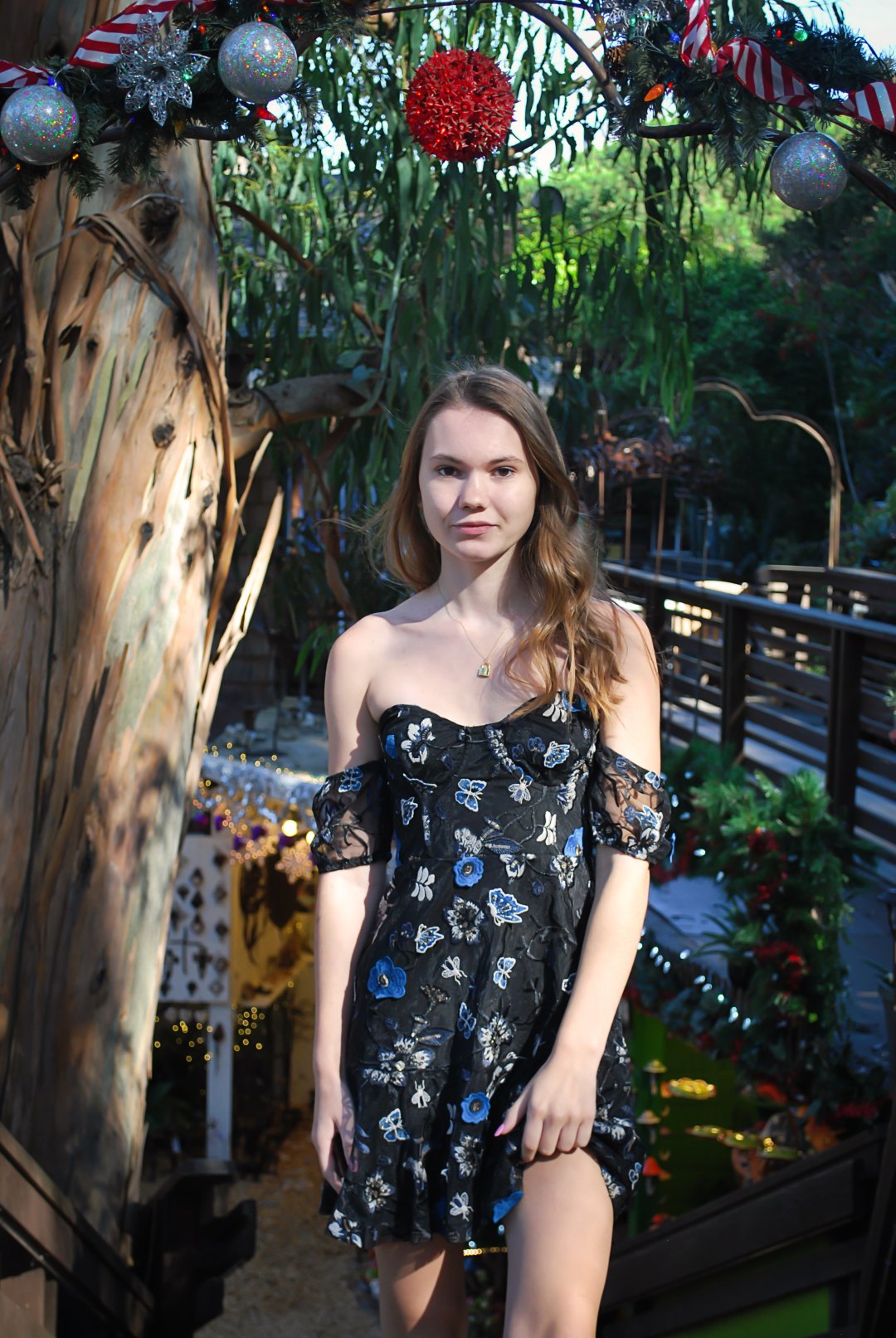 For Love & Lemons Botanic Strapless Dress is absolutely beautiful. Those off the shoulder straps, and the sweetheart neckline play perfectly with the calming colors. This dress is perfect for the holidays and parties, or even date night. This dress will have you feeling flirty and lighthearted in no time. A must have!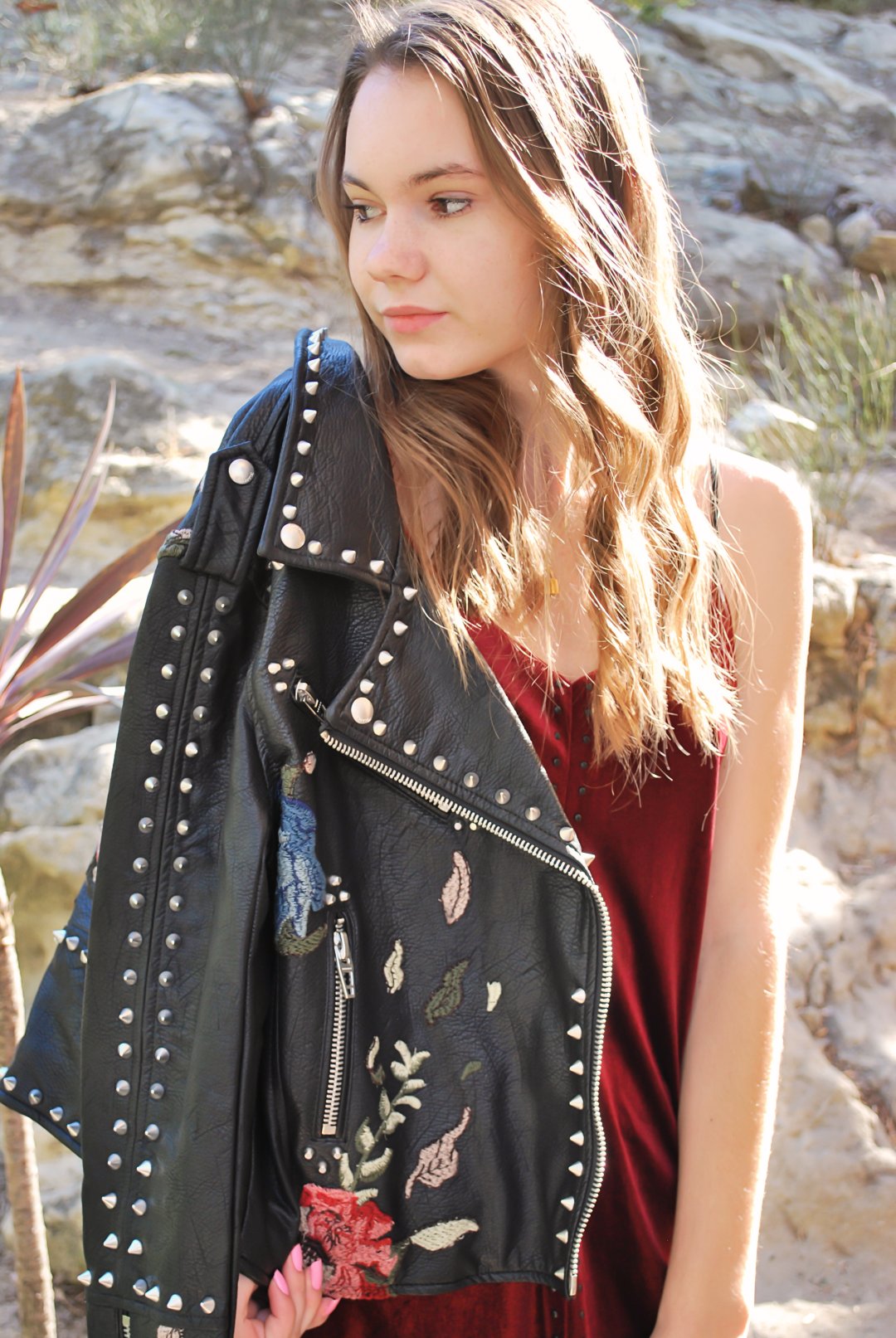 Looking for a holiday look that can take you from all the parties, through the Winter that can take you from day to night, causal or dressy? THIS one is for you! The gorgeous red burgundy in Blank's Velvet Rope Dress  will have you feeling festive and sexy, while the Budding Romance Studded Vegan Leather Jacket by Blank will give you a beautiful badass edge while keeping you warm. These pieces are so versatile and definitely a fave.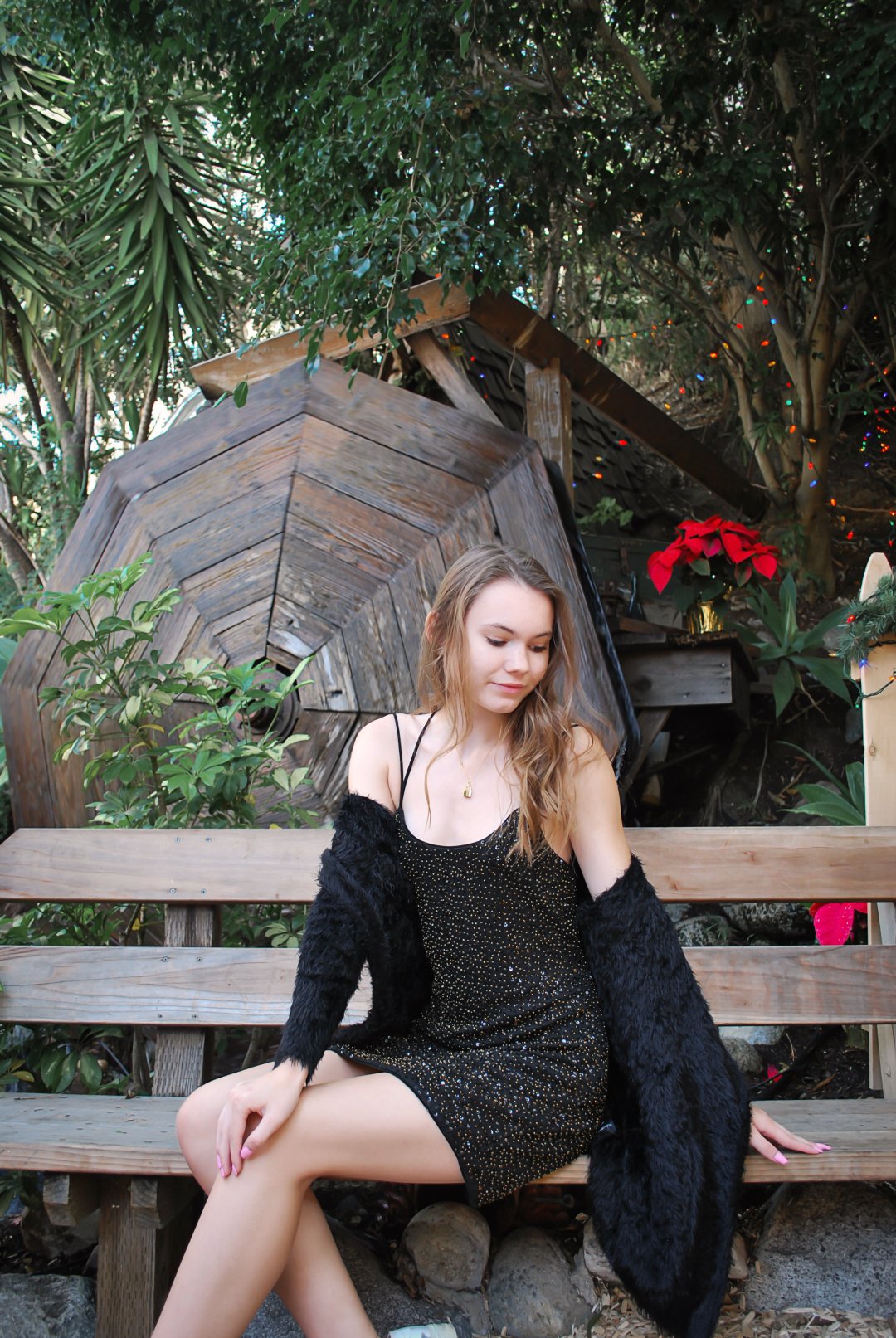 Ultimate sexy combo with NBD's Nimah Sequin Dress and For Love & Lemons Lolo Mohair Cardigan.  Between the backless cut with the straps and the soft fur of the cardigan, you will easily dance the night away and be the belle of any festivity. So beautiful!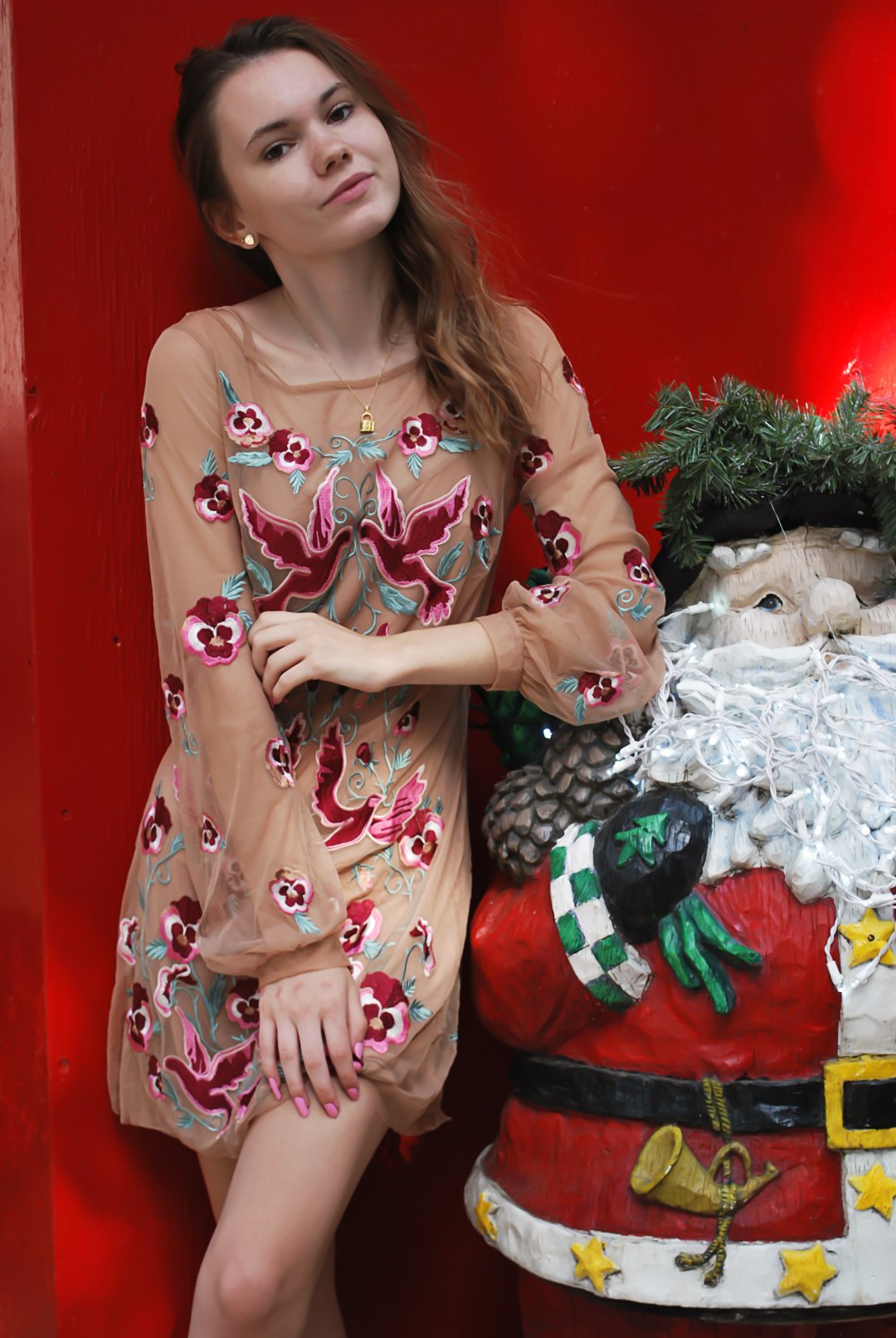 So, I may have saved the best for life. I don't want to play favorites, but this is my favorite.  For Love & Lemons Dove Embroidery Mini Dress is absolute perfection. Between the complete open back, the nude color, the billowy sleeves, and the gorgeous embroidered colors, I can't get enough. I'm sure you won't be able to either. This dress is made for holidays, weddings, parties, dates... one dress for every answer. You won't regret this. 
These looks and dresses will be the talk of any event you decide to wear them to. I definitely recommend them for the holidays and weddings. We can't wait to see you wear them. Be sure to tag us @BlissBandits to show us how you styled them.
Happy Holidays & Merry Christmas from the Bliss team. Wishing you cozy nights, yummy food, amazing company, and all the best memories. xo
For more photos and higher quality, we'd love for you to follow us on Instagram:  @blissbandits.
 *All photos taken and credited by Annie Potts. @gypsylovin85
We'll be back with another, "What We're Loving" post soon! Stay tuned!
Until then... be well, stay active, and smile.
-Annie at Bliss 
**If you're in the OC area, have had some modeling experience and would like to model for us, please direct message me on IG @ gypsylovin85.