It's A Vibe: Gingham Alert!
Hello My Bliss Beauties!!
It's currently pretty cold here in Southern California. Can you believe it? The other night was a low of 37 degrees. Thank goodness the sun makes it feel a tad warmer, but I'd like to go back to mid 70's please. I'm so grateful this shoot was done on a windy, but semi warm day. I've been lusting over the thoughts of Spring lately, and I can't wait till it's warm enough to not have to bring a sweater and jacket everywhere again. I met up with Sammi (@ssssammi) in beautiful Laguna Beach with some of my most favorite looks ever. And boy, did she deliver. A obsessed as I am with each look on a hanger, she made look even better. Check out what I chose to style Sammi, and how she killed it, below.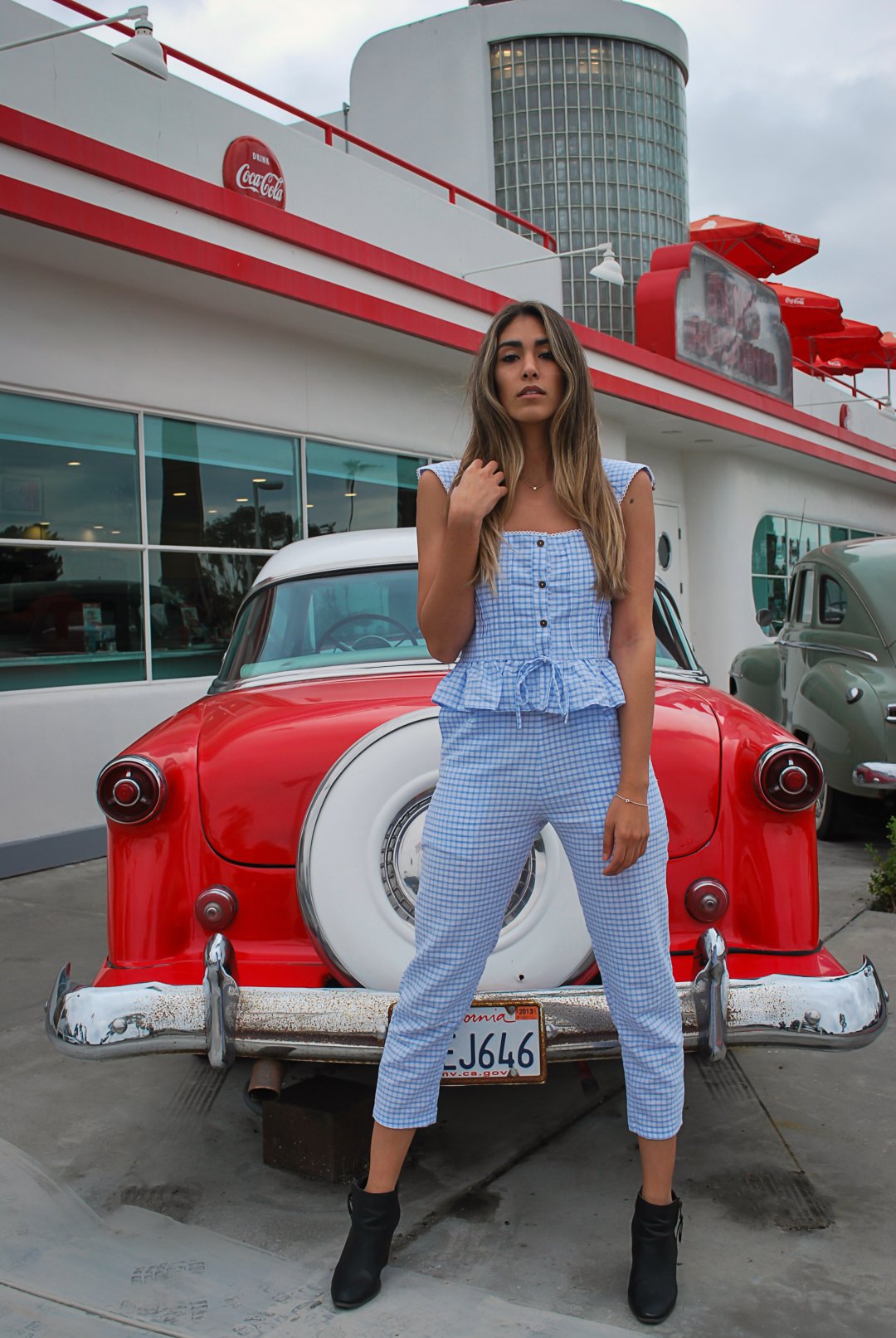 I am absolutely in love with this outfit. This Cleobella Belle Top and Bijoux Pant (links to come) are the most perfect and easy to style outfit for Spring and even Summer. The gorgeous gingham print and baby blue color are so light and pretty. This look pairs well with heels, tennis shoes, and sandals. And looks amazing with some delicate jewelry. You will want to wear this over and over.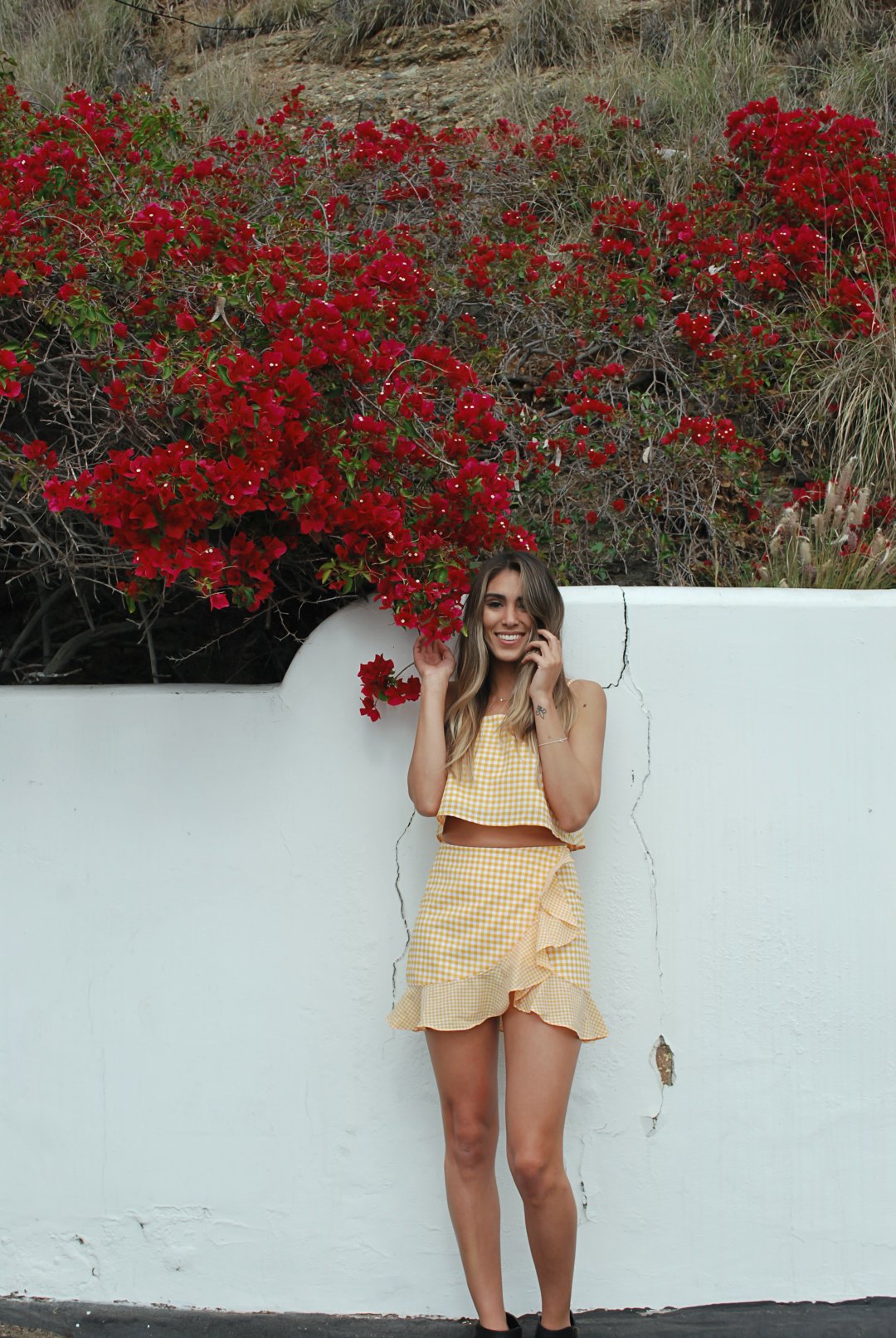 Okay, okay... so I'm obviously seriously obsessed with gingham. Noted. But do you blame me? With so many different ways to wear it, so many different cuts and colors, you can't go wrong. I think it looks good on every one. And this little number by Lovers + Friends is no different. Lovers + Friends Bowie Crop Top and Lovers + Friends Affection Skirt is the sweetest combo ever. Between the open back of the top and the ruffles on the skirt, it doesn't get much better. This will look cute anywhere, any time. YES!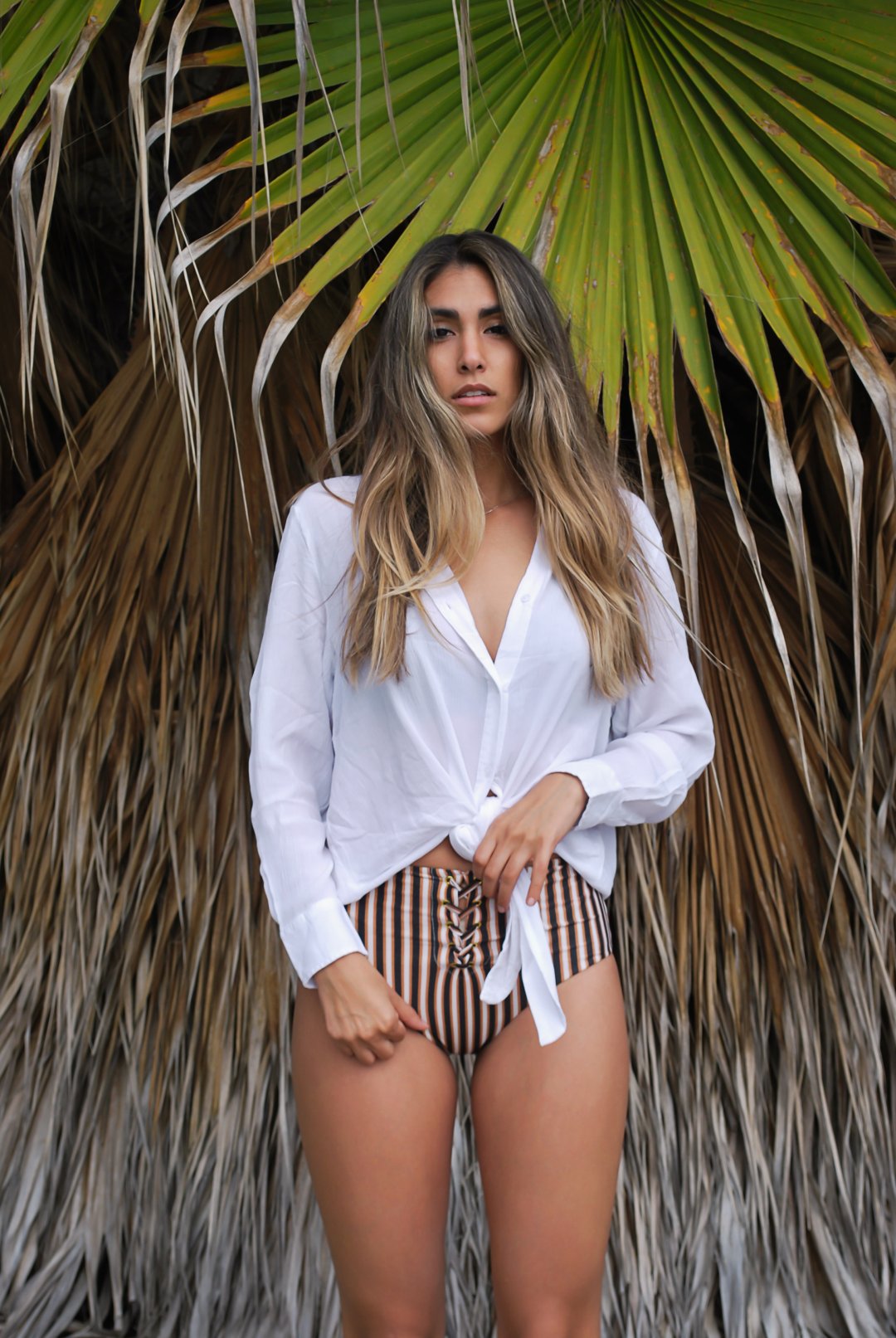 I love this look so much for a beach day or vacation look, or even just lounging by the pool. I paired Amuse Society's Cest La Vie Woven Top, and Amuse Society's Chantal High Waist Swim Bottoms. Who doesn't love the most perfect pair of high waisted swim? I love how these have a lace up on the front, and the colors are gorgeous. The top is super versatile and looks amazing styled any way, which is always a winner in my book. Sammi made it look stunning at the beach.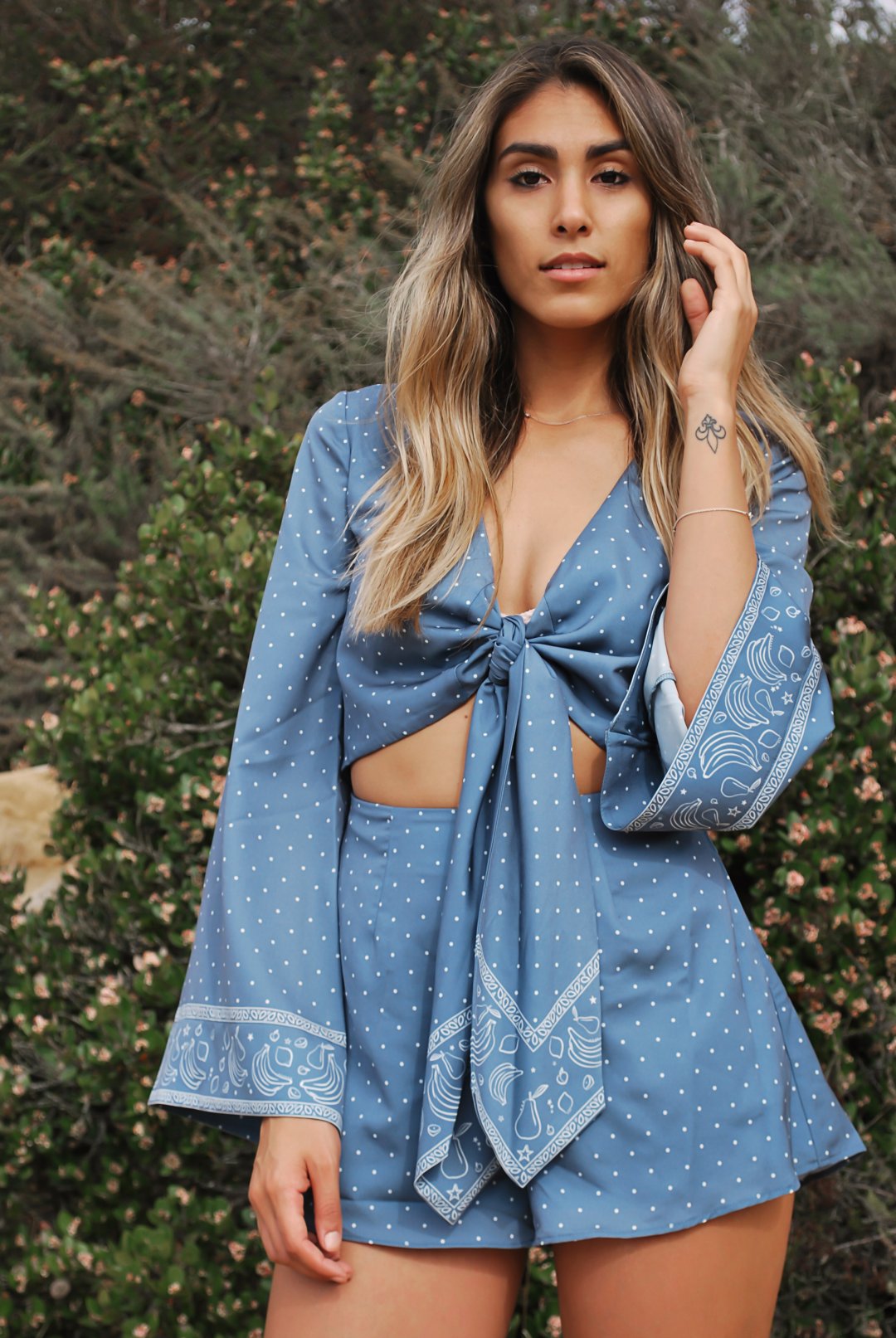 How absolutely awesome is this romper? I fell in love with it the first time I saw it, and knew I had to shoot it. Finders Keepers Vanish Long Sleeve Playsuit is the easiest look to pull off. With its bellowed sleeves with a bandana fruit print on it- yes I said fruits- take a close look and you'll see them, and it;s beautiful open mid drift with tie closure, this romper will for sure become your favorite. The color alone is so lovely. This is a staple you need for the upcoming seasons.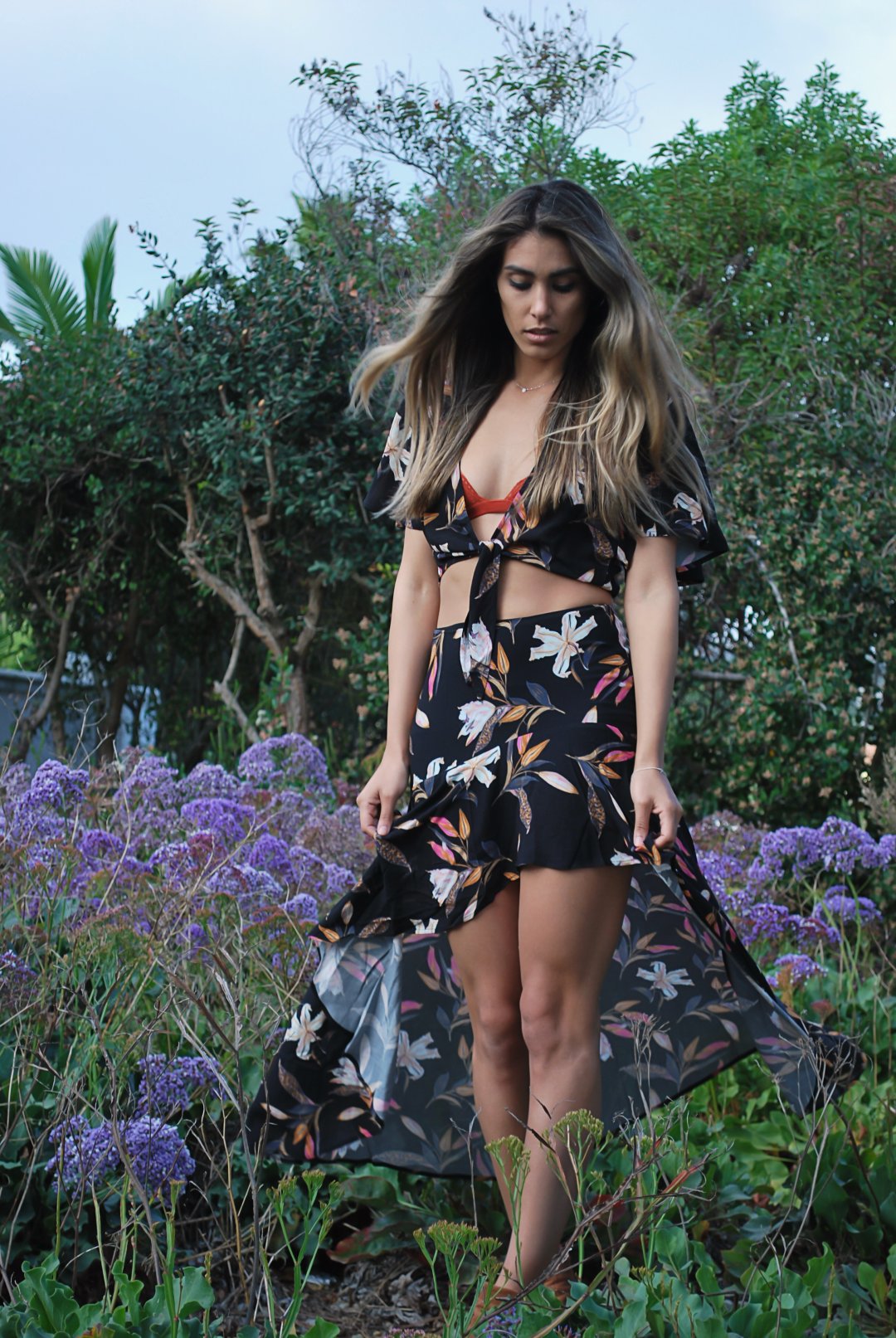 This beautiful little number is so breezy and feminine, I can hardly take it. Sammi makes it look so delicate and graceful. Just pair Beach Riot's Laurel Tie Front Top and Beach Riot's Rachel Skirt. This look can be a paired with a gorgeous lacey bralette or over a swim suit. Endless options really. It's perfect for any occasion and you'll for sure get all the compliments. 
Everything about this shoot was incredible from our location, to Sammi, to these breezy, amazing looks. I'm so in love with how the photos turned out, and I hope you guys love them too! If you get any of these pieces, please be sure to tag us in them. We LOVE seeing how you guys style and wear them. 
For more photos and higher quality, we'd love for you to follow us on Instagram:  @blissbandits.
 *All photos taken and credited by Annie Potts. @gypsylovin85
We'll be back with another, "What We're Loving" post soon! Stay tuned!
Until then... be well, stay active, and smile.
-Annie at Bliss 
**If you're in the OC area, have had some modeling experience and would like to model for us, please direct message me on IG @ gypsylovin85.