Hello My Bliss Beauties!
Happy Spring! It seems like it's taken forever to get here, and I couldn't be more ecstatic for warmer days and sunshine rays. The past few weeks here have been cloudy, rainy, and super chilly. I think we all are happy and have been anxious for the longer daylight, and warm adventures. I had a great idea for a shoot, and was so nervous it'd be rained out according to the weather report, but got super lucky that the clouds looked amazing and the sun came out perfectly. Taylor (@taylorrbrady) and I spent our Saturday afternoon at a perfect little garden and green house here in Orange County, and scored amazing shots. I styled Taylor in some amazing pieces available below and I think you guys will love them!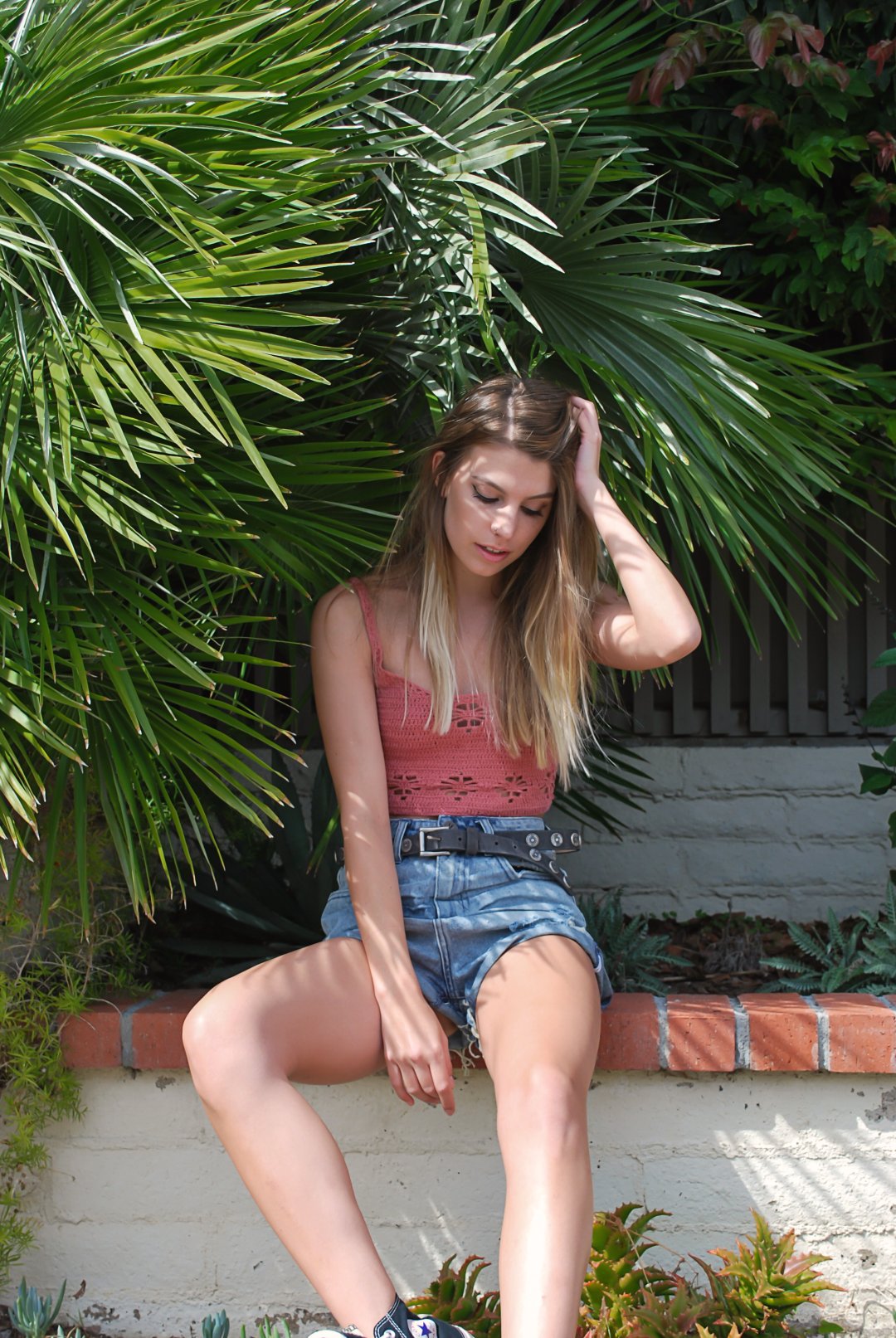 Ok- so I always struggle putting together a super easy, beachy, fun, sexy little outfit for myself, but when I put this together, I knew it was perfect. It's such a great combo for a casual day. All you need is Free People's Berkinette Crochet Brlette Crop Cami and One Teaspoon's Blue Storm High Waist Bandit Shorts. Lastly, don't forget A super cute belt to give the outfit a bit of edge. I love Brave's Bellsie Studded Newport Leather Belt. This is the kinda simple outfit that never gets old.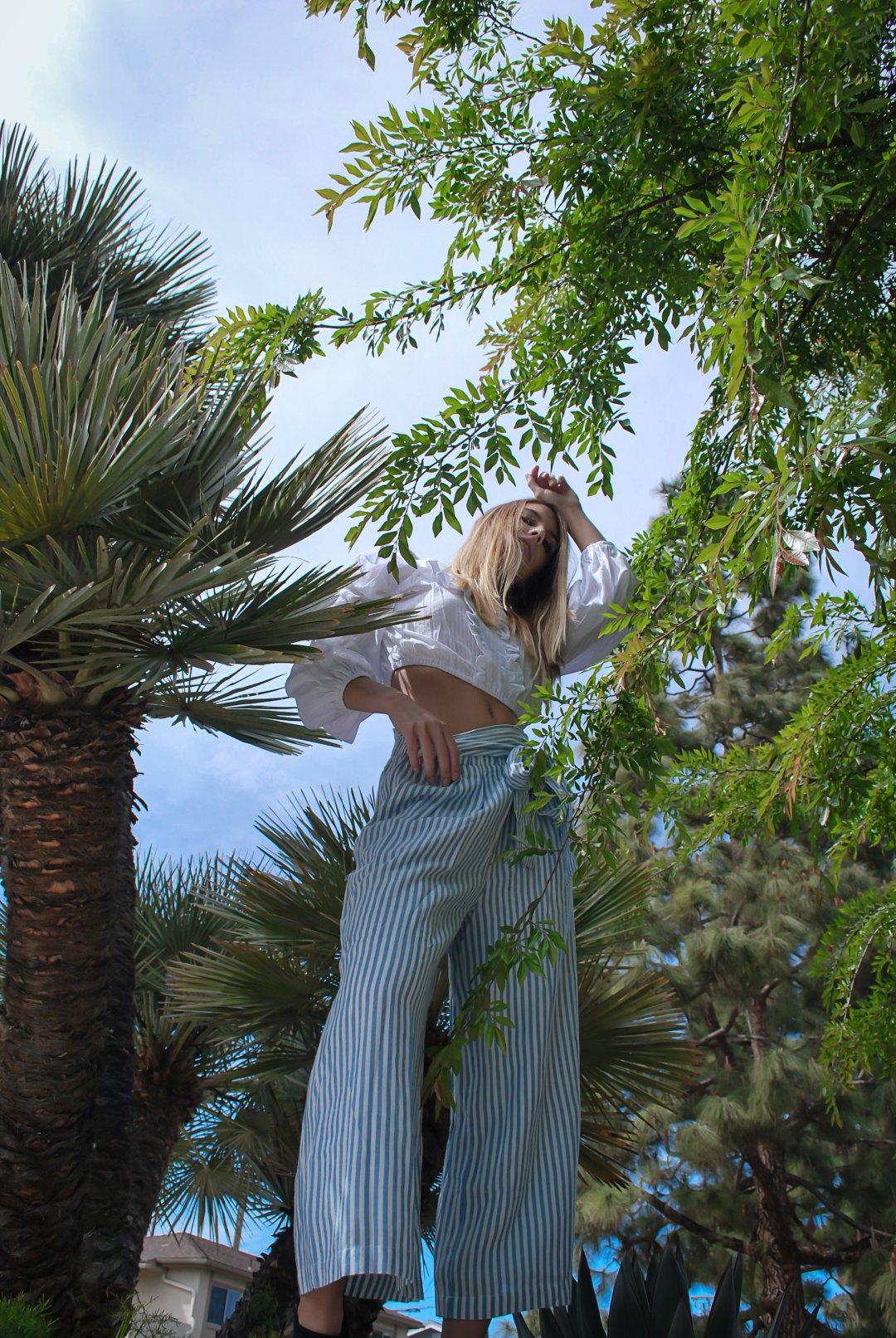 I adore this look! It's one of those outfits you see on some one and absolutely love, but would never necessarily put it together yourself. I took a chance with this one, but Taylor made it look so effortless and chic. It's definitely a carefree, lightweight, fun look. I took The Fifth Label's Verse Long Sleeve Top and paired it with these amazing pants (coming soon!) I can't get enough of this outfit, and I think it will look amazing on you. What's even better is, both pieces are so versatile.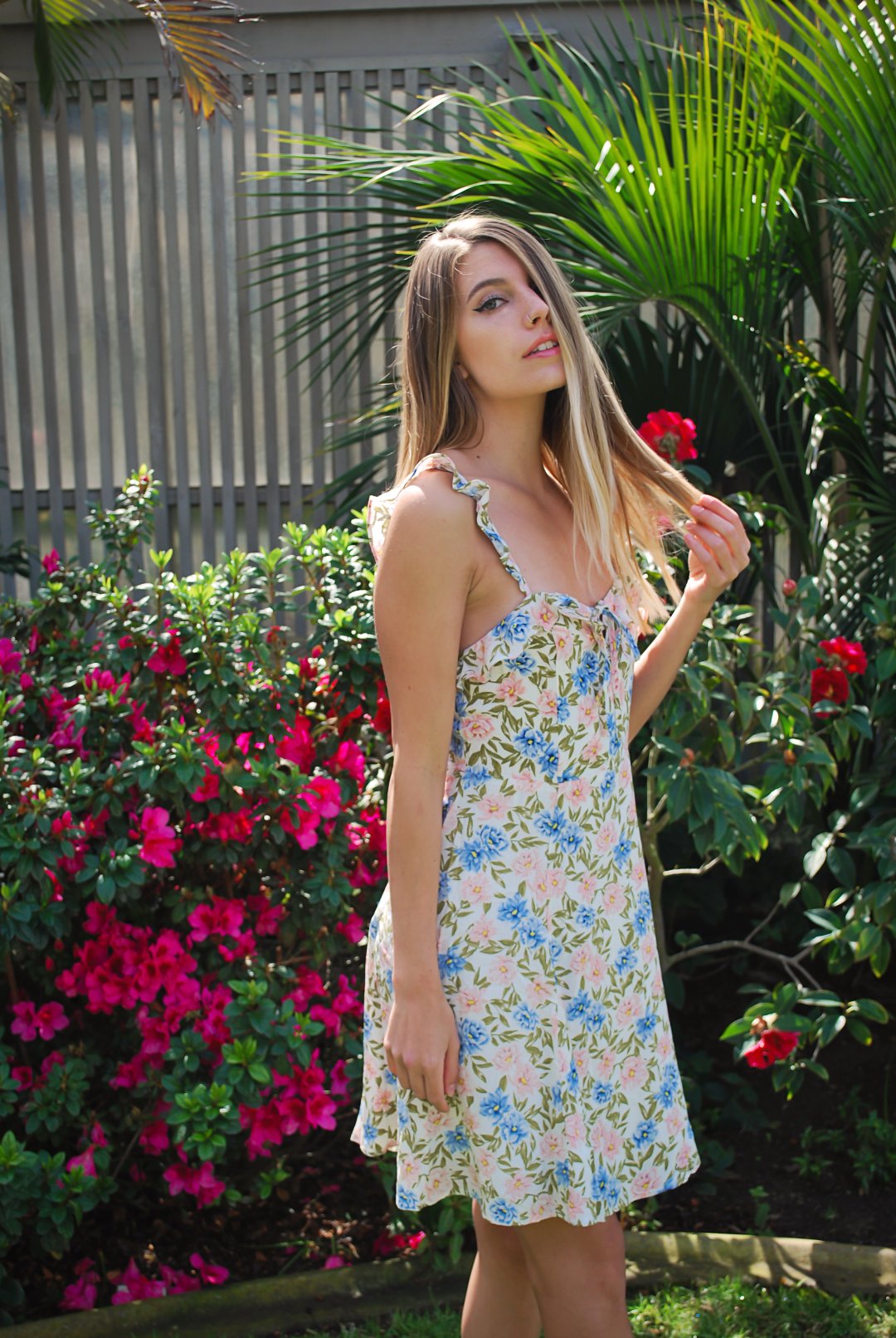 How perfectly gorgeous and sweet is this floral dress by J.O.A.? I know! It's the kinda dress you can wear to anything from a wedding, to a date, to a casual day out and about. I love the cut and the ruffles on the chest hem. Sit tight, because this dress is coming soon.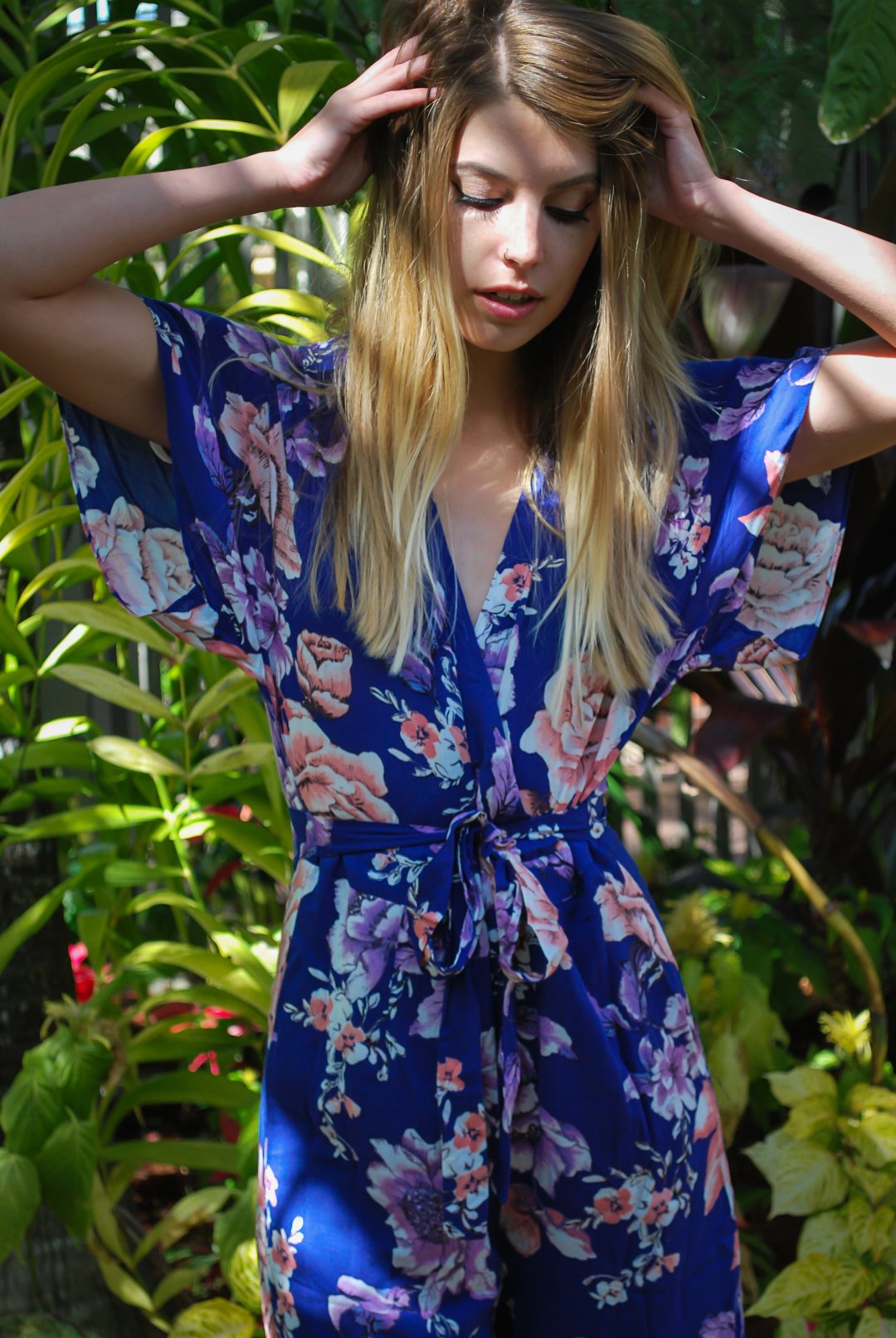 Ok, so we all LOVE a good jumper right? Thought so... this one by J.O.A. is jackpot. I fell in love with the floral print and the cobalt blue fabric. I knew I had to shoot it, and thought it would pop in the gardens. I was right. I'm obsessed with this, and the open back makes it even more chic. It's definitely a must have, and looks amazing for so many occasion. Don't worry- it's hitting the site soon!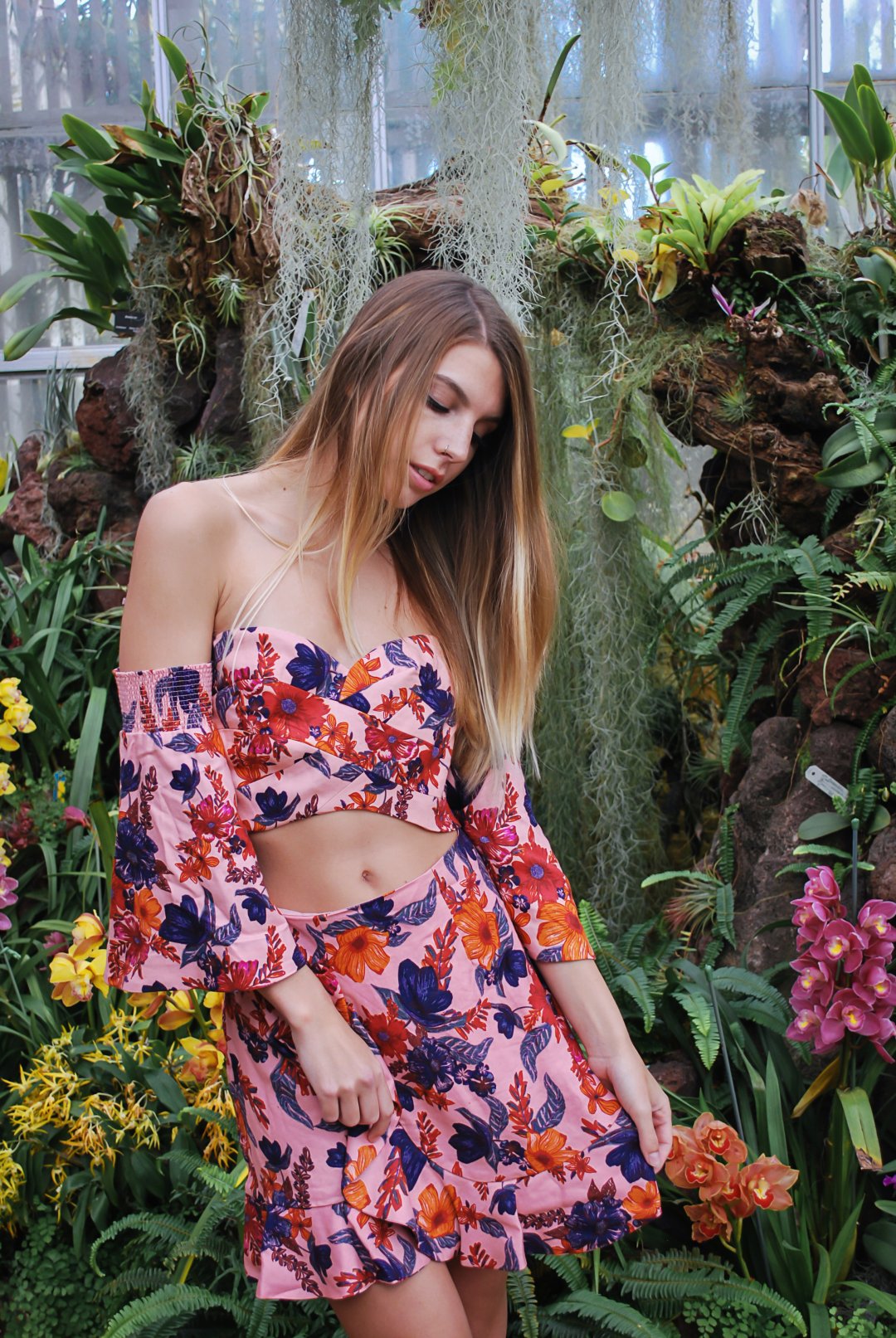 THIS little number is an outfit from our dreams! Between the colors, fabric, and pattern- I'm in love! Take Finders Keepers Rhapsody Bodice Top and Finders Keepers Rhapsody Mini Skirt and you're good to go. When we got these in, my jaw dropped. I love this for vacations, date nights, or even just for a day exploring a new area. You'll for sure land tons of compliments and take the best photos with this look. I don't think you'll ever regret owning these!
So there we have it guys- another What We're Loving in the books. I'm particularly proud of these, and accomplished exactly what I had envisioned, so I hope you love them to. Thanks so much Taylor for braving the chilly weather and frolicking in all the flowers. I hope this inspires you to get out there, explore, adventure, try new things, and live. Let's enjoy this new season, and all the good times to follow. We are so blessed. 
If you pick any of these looks up, be sure to tag us in IG. We love seeing how you wear and style them. 
For more photos, we'd love for you to follow us on Instagram:  @blissbandits.
 *All photos taken and credited by Annie Potts. @gypsylovin85
We'll be back with another, "What We're Loving" post soon! Stay tuned!
Until then... be well, stay active, and smile.
-Annie at Bliss 
**If you're in the OC area, have had some modeling experience and would like to model for us, please direct message me on IG @ gypsylovin85.