What We're Loving - Valentine's Edition
Hey Bliss Beauties!!
I'm back to bring you another fun "What We're Loving." I thought it'd be a great touch to shoot some super cute Valentine outfit ideas since that sweet little holiday is just around the corner. Now, I know some people think low of the "holiday," and while it may be a tad corny and over the top- let's all admit for a second that it can be really cute and fun! Whether you're in a relationship and celebrate with a big gesture or getaway, or if you're single and spoil yourself, we definitely support it. I personally like to surprise my friends back home with cute little packages or letters to remind them that they're important to me, and that I love them. Sweet little gestures are loved by every one, and who doesn't want to wear a cute outfit while they celebrate? We picked out a few and featured them on Chanel (@diamondpockets) and Kaela ( @sandandsunkisses.) I made sure to put adorable little spins on these shots.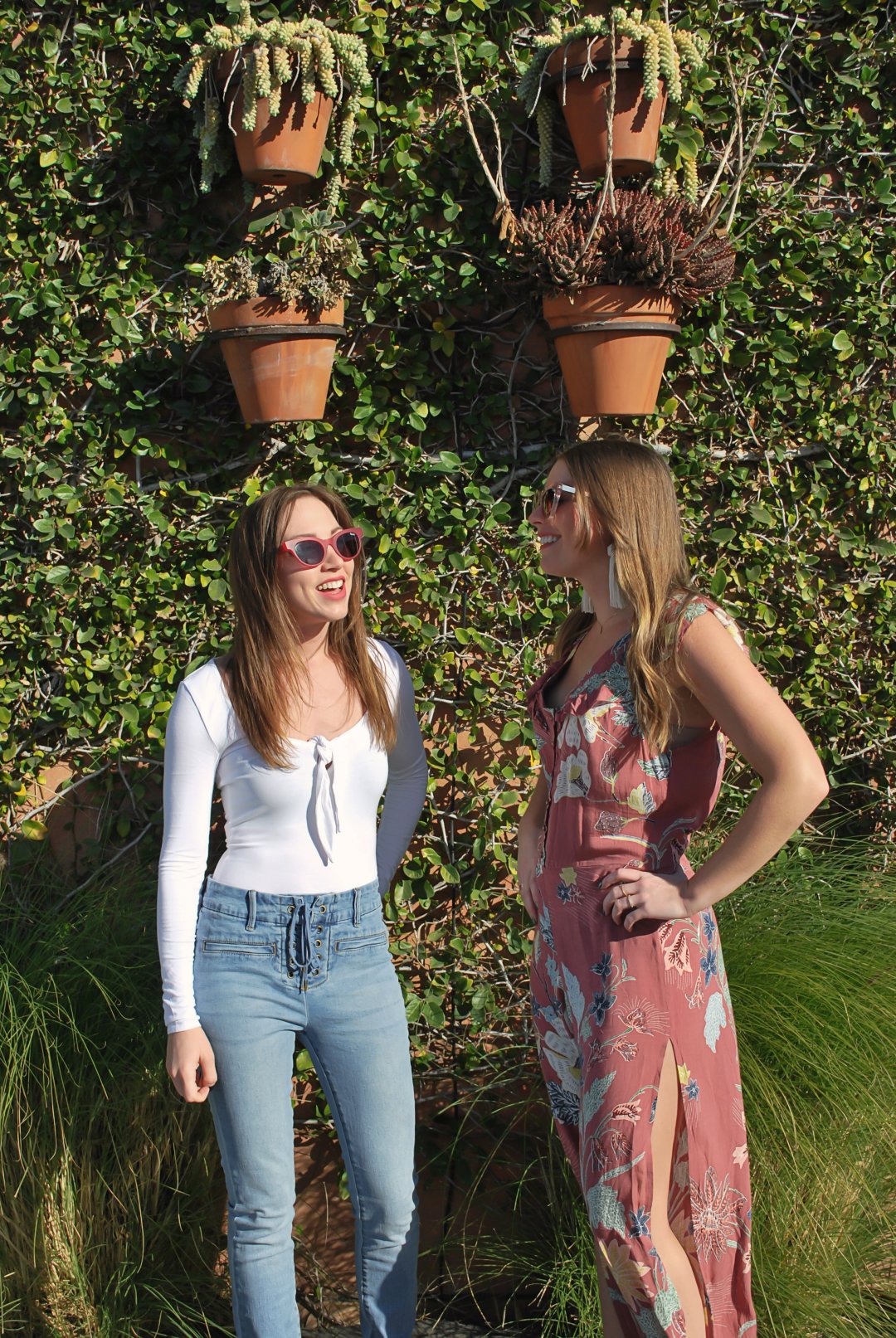 Depending on where you live, it might limit your outfit options for Valentine's Day, but both of these are easy to wear and layer. Kaela wears the most perfect bodysuit: Amuse Society's Libra Knit Bodysuit, Amuse Society's Soho Pant, and Quay's Star Struck Rose Cat Eye Sunnies. Chanel is wearing Quay's Steal a Kiss Sunnies, Vanessa Mooney's Astrid Knotted Tassel Earrings in Ivory, and a gorgeous Cleobella Jumpsuit (coming soon.) The outfits are so cute!!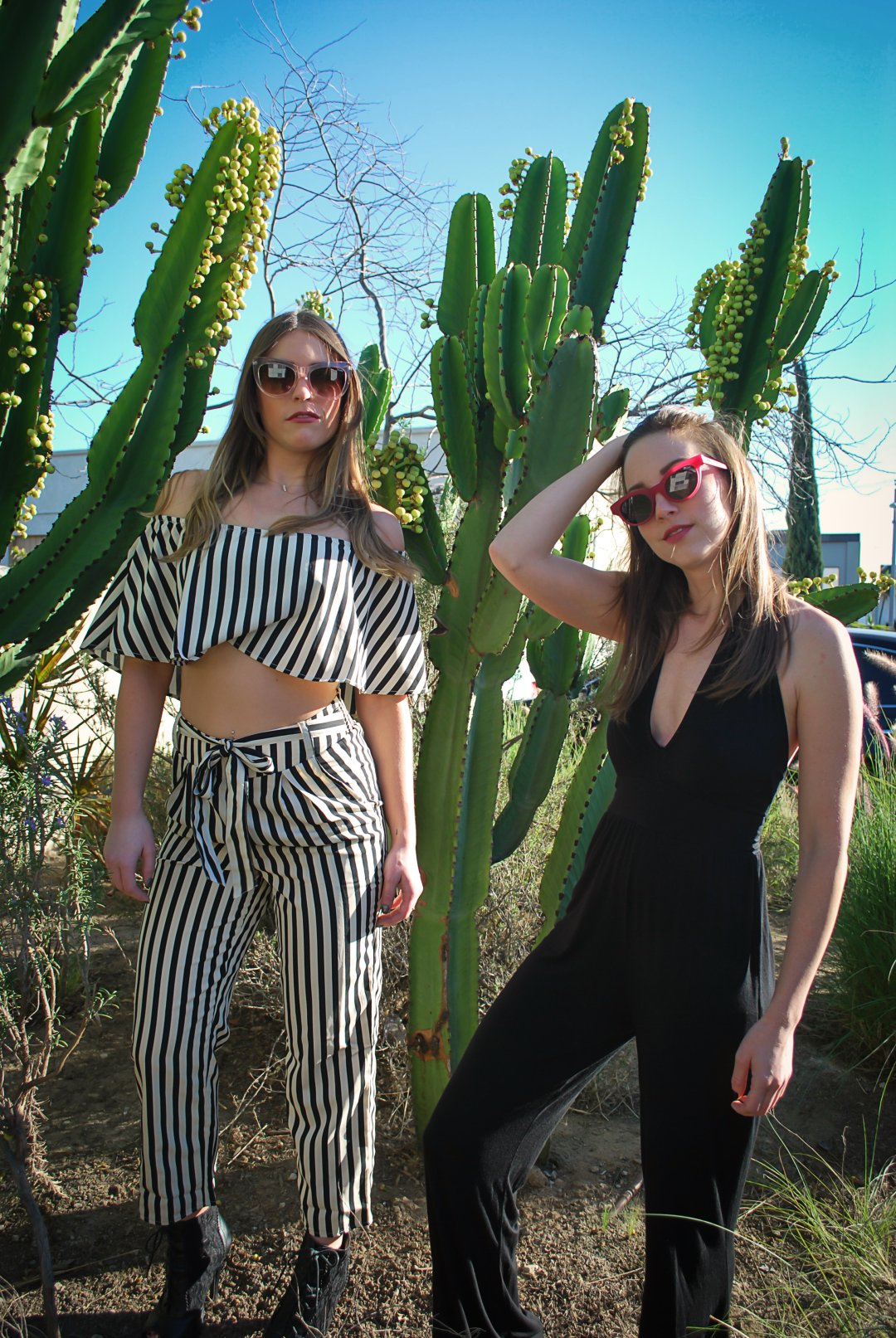 I absolutely LOVE these outfits! They're fun and flirty and not super Valentiney; meaning they're perfect for any day or occasion. Chanel is wearing Amuse Society's Total Flirt Off The Shoulder Top, Amuse Society's Night Out Pant, and Quay's Steal A Kiss Sunnies. Kaela is wearing Clayton's Clement Jumpsuit (coming soon,) and Quay's Star Struck Cat Eye Sunnies. How amazing do they look in these?
 Easy, flowy, and sweet... these outfits are perfect for Valentine's Day, or any date night or girls night out. And who doesn't love a good mini dress or romper? Kaela is wearing Rose May's floral dress (coming soon,) while Chanel is wearing Cleobella's Autry Playsuit Romper. These look and feel amazing.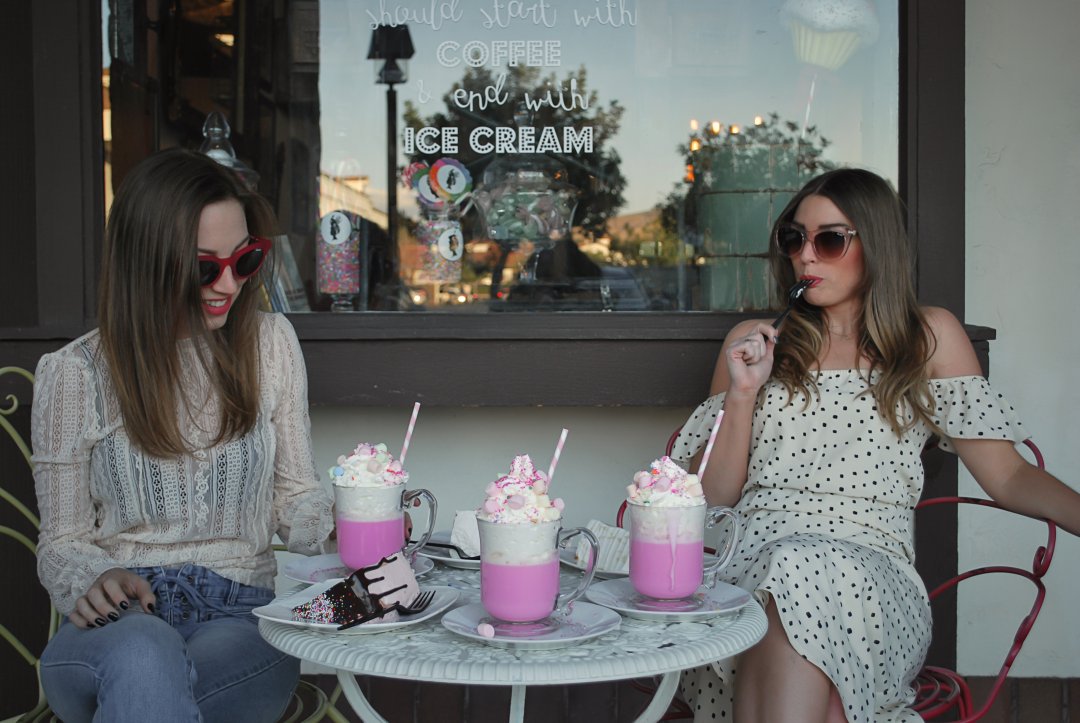 How fun did these turn out? Lace, polka dots, and sunniness make for an amazing Valentine outfit. And these girls completely rocked it. Chanel looks adorable in Amuse Society's Sweeter Than You Dress, Quay's Steal A Kiss Sunnies, and Vanessa Mooney's Astrid Knotted Tassel Earrings in Black. Love this outfit so much! Kaela looks so dainty in Amuse Society's All About That Lace Top in Ivory, Amuse Society's Soho Pant, and Quay's Star Struck Rose Cat Eye Sunnies. Such a pretty look. Pair either of these with heels or booties and a red lip, and you're good to go. 
These looks are so gorgeous and will take you from a Valentine look, to girls night out, to date night. Dress them up or down and put your own spin on them. 
Happy Valentine's Day, babe!! Enjoy it and be sweet to your partner, friends, family, a stranger...every one. Make some one's day a little sweeter!
For more photos and higher quality, we'd love for you to follow us on Instagram:  @blissbandits.
 *All photos taken and credited by Annie Potts. @gypsylovin85
We'll be back with another, "What We're Loving" post soon! Stay tuned!
Until then... be well, stay active, and smile.
-Annie at Bliss 
**If you're in the OC area, have had some modeling experience and would like to model for us, please direct message me on IG @ gypsylovin85.